Marine Precinct Under Construction
Located in Gabador Place, Mt Wellington, just five minutes off the motorway and conveniently close to Sylvia Park Mall, Tamaki Marine Park will be Auckland's newest and most modern marine precinct once construction is completed later this year.
The area already has an established marine presence, with boat builders McMullen and Wing and Chris McMullen on the site's southern boundary and the Rayglass Boats service centre next-door to the north. There will be 2 large boat sheds and plenty of undercover yard space with a high canopy to allow larger boats to carry out maintenance.
Onsite will be 7 trade units including marine engineers, marine electricians, boat painters, and marine detailing businesses on a fully concreted yard.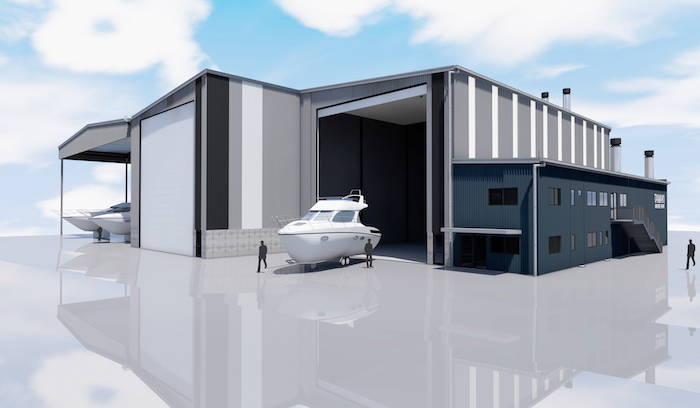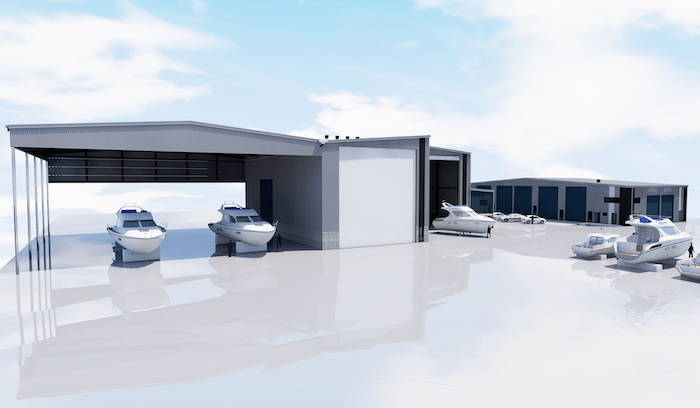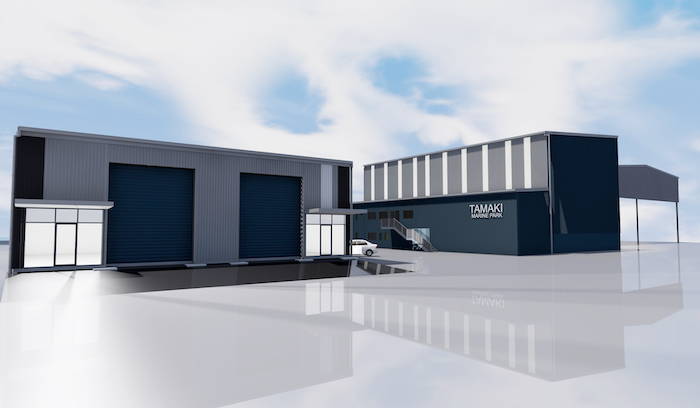 Drystack

Tamaki Marine Park's existing 260-boat dry stack facility
accommodates boats from 4m up 12m in length and is home to many
popular locally-produced boats, ranging from small outboard driven runabouts to Rayglass 3500s and 12m Protector RIBs, for example.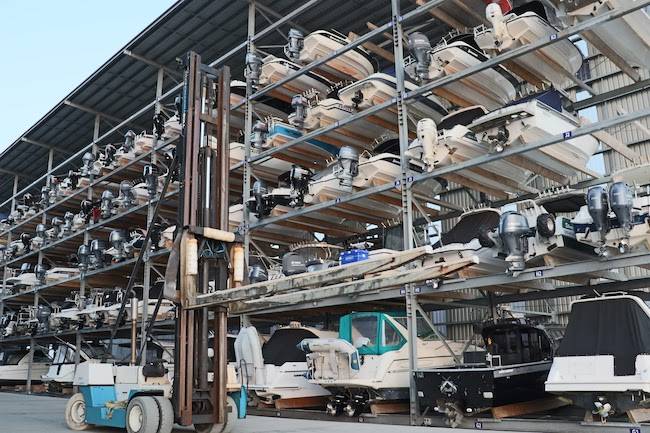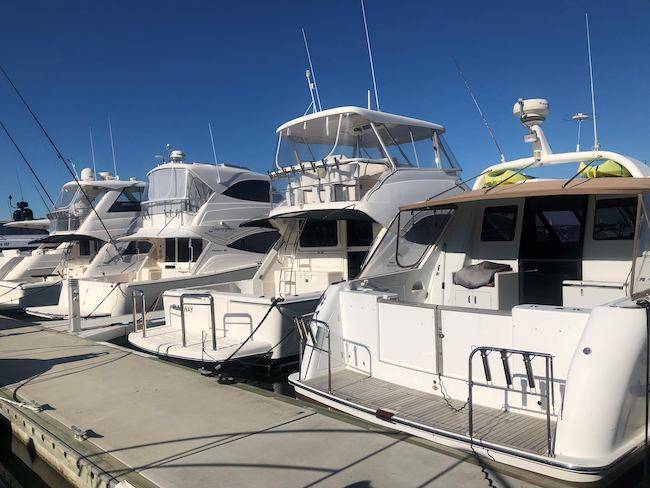 Marina
A 30-berth marina was constructed on the river taking over the riverbank where a bulk storage facility once stood. This marina offers a safe, idyllic haven on the Tamaki River for mainly motorboats ranging in length from 12–28m to berth.
The marina will be extended further this year, increasing the number of berths by 25%.
Tamaki Marine Park already provides a number of services to boat owners in their marina and from elsewhere, including haul-out, water blast and hardstand facilities for vessels up to 60 tonnes, courtesy of a new
Haulout
Roodberg haul-out trailer. They can service motor yachts, catamarans and sailing yachts (as long as masts have been removed – there is an air draft restriction of 7.8m at MHWS due to being upriver of the Panmure
and Pakuranga road bridges). Additionally, a petrol and diesel refuelling service in partnership with GOfuel is available.
A major new marine precinct complex is currently under
construction replacing the site once occupied by an old tank farm.
During the development of this marine precinct, significant efforts have gone into the design to rejuvenate this section of riverfront land, giving it a new lease of life.
Works have begun with concrete already being poured and construction underway of two large sheds, a massive 840m2 canopied undercover boat yard area with 10.5m clearance, and seven 'trade units.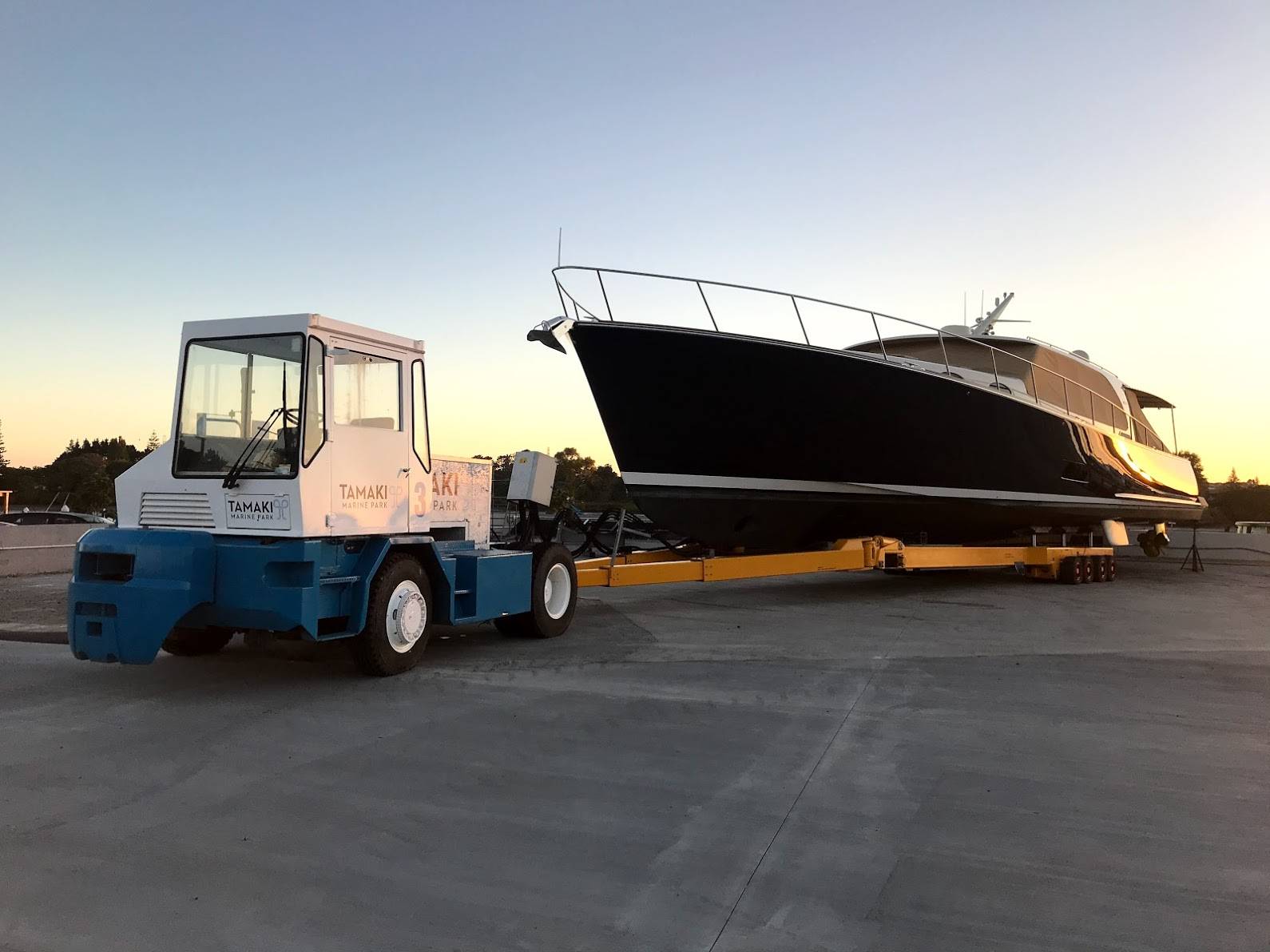 Location
Being located only five minutes off Auckland's southern motorway, with easy access enroute to the shops at Sylvia Park Mall, it's perfectly positioned for pre-departure provisioning or as somewhere to drop off the family while doing odd jobs on the boat.
Once at Tamaki Marine Park, there is plenty of secure parking and once the lines are thrown off, Browns Island is only 30 minutes' leisurely run down the picturesque, historic Tamaki River estuary. The wonderful anchorages, fishing and cruising grounds of Waiheke Island and beyond are then just a short hop across the channel.